The Parish Church is the largest church in Derbyshire and is famous locally and internationally for its crooked spire, attracting visitors from around the world.
It is open Monday to Saturday from 9 a.m. until 4.15 p.m. for anyone to find a quiet place to pray, to visit or look around.
Tower tours are conducted daily (except Sundays) during the principal tourist seasons, but it is advisable, especially if making a special visit to Chesterfield, to telephone the Verger to confirm times and availability.
(Tel: 01246 206860)
Tower Tours: Adults £6 – Children £4
Tower Tours in the coming week: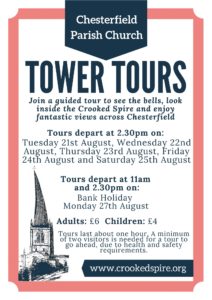 There are also tours at 2.30 p.m. every day from Tuesday 28th August until Saturday 1st September.
Chesterfield Parish Church has launched a new voucher scheme with its official hospitality partner, saving visitors and tourists money.
Everyone who joins one of the church's tower tours is entitled to a 10% saving on food purchased in the Spire by Stephensons, the award winning coffee shop in the Saints Parish Centre
Requests for guided tours of the church may also be made to the Verger.
Tel: (01246) 206860
CLICK HERE for the church's location and how to get here.